Under the Hood of the New FlashBlade and Cohesity Integration
A powerful new solution developed by Pure Storage® and Cohesity enables enterprises to eliminate complex, legacy backup environments. Pure FlashRecover™, Powered by Cohesity® consolidates multiple use cases such as data protection, test/dev, and analytics in a single solution. Integrated with Pure Storage FlashBlade®, the solution maintains all the value that comes from industry-leading backup software while providing enterprise-class all-flash hardware for superior performance.
This joint solution integrates Cohesity DataProtect software and Cohesity compute nodes with Pure Storage FlashBlade storage for data protection. FlashBlade delivers enterprise-class all-flash storage designed and built from the ground up as a unified fast file and object (UFFO) storage platform delivering exceptional performance. Cohesity compute nodes provide a robust physical layer that has compute, memory, NVMe flash for metadata, and networking built in. FlashBlade provides the backend storage for data in this powerful solution, which is best suited for rapid-backup and rapid-restore use cases, along with big-data analytics, faster cloning, and test/dev operation.
For the Pure FlashRecover, Powered by Cohesity solution, you'll need to configure the compute nodes with FlashBlade rather than deploy as a standalone cluster. Cohesity complements FlashBlade storage with a distributed file system that is designed for high availability. The nodes have share-nothing architecture with no single point of failure and no inherent bottlenecks. The disaggregation of compute and storage of this integration provides many advantages, including the ability to scale independently and linearly both on compute and capacity. The distributed file system spans across FlashBlade and provides global deduplication, with compression and encryption provided by FlashBlade.
Reference Architecture
Pure FlashRecover, Powered by Cohesity, is a scale-out architecture that enables policy-based provisioning and management of data storage provided by FlashBlade. This approach disaggregates the storage from compute and networking. It also gives users flexibility when it comes to storage expansion and building a data-center backup solution with lower costs. FlashBlade is the world's first UFFO data storage with true scale-out and high-performance capabilities. Together, Cohesity nodes and FlashBlade storage provide the best scalability with simple administration, at a lower cost.
The reference architecture outlines the Pure FlashRecover, Powered by Cohesity platform, a new offering for flash backup and restore. This integrated solution is specifically designed to address the infrastructure challenges, operational complexities, data management challenges, and disk fragmentation that persist across backup silos within enterprise data centers today.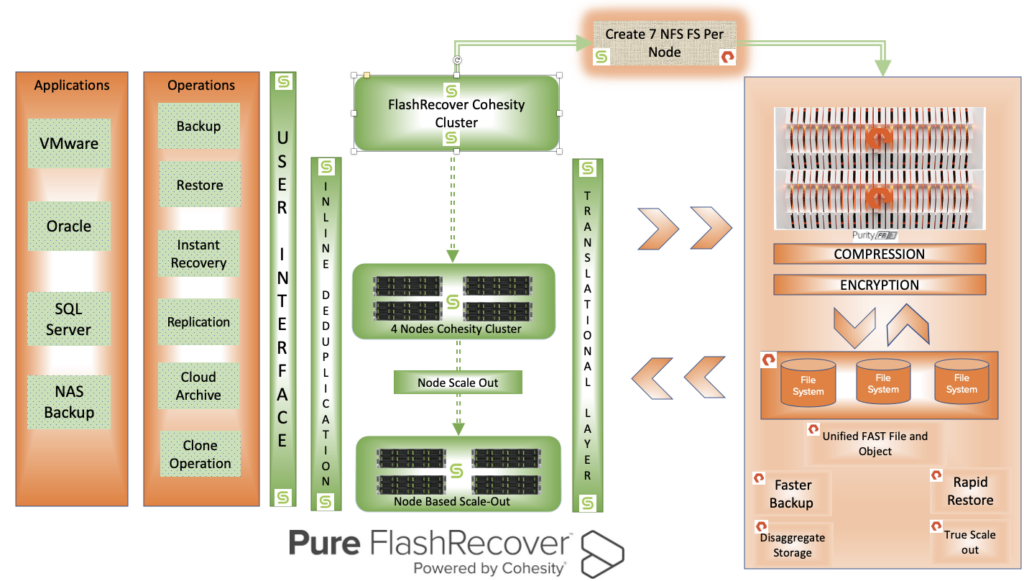 A Closer Look at the Solution
Pure FlashRecover, Powered by Cohesity, is a backup, archive, and restore platform designed for rapid restore, rapid backup, and disaggregated storage needs. Salient characteristics include that the platform is:
Deployed on industry-standard, x86-based server hardware, with each node containing compute and networking and storage backed up by Pure Storage FlashBlade.
Powered by Cohesity DataProtect software. For more information on configuration, please contact us.
Cluster-based, meaning that a given deployment always includes multiple server nodes, all of which work together to deliver a service. We recommend always having at least four nodes in a cluster for fault-tolerant purposes and to ensure that the cluster remains functional when a single node fails.
Cluster Manager
The Cluster Manager controls all the core services that run on a FlashRecover cluster. This layer is responsible for maintaining all configuration information, networking information, and the general state of all other components in the system.
I/O Engine
The I/O engine is responsible for all read and write operations that take place on the cluster. It contains the write cache, which lives in local SSD, and the tiered storage layers that span across Pure FlashBlade. For write operations, as data streams into the system, it's broken down into smaller chunks and then writes over NFS to FlashBlade. Because FlashBlade has its own fault tolerance, it eliminates the need to write multiple copies of the chunks, and as a result, increases the backup speed. For read operations, the I/O engine receives the location information of the data from the distributed metadata store and fetches the associated chunk(s). If a particular chunk of data is frequently requested in a short period of time, that chunk is kept in local SSD to ensure quick access and optimized performance on subsequent requests.
Metadata Store
The metadata store is a consistent key-value store that serves as the filesystem metadata storage repository. Optimized for quick retrieval of filesystem metadata, the metadata store is continually balanced across all compute nodes within the cluster (accounting for nodes that are added or removed from the cluster). The metadata store ensures that multiple copies are maintained at any point in time, so that data is always protected, even in the event of a node failure.
Solution Benefits
Pure FlashRecover, Powered by Cohesity, offers best-of-breed rapid backup, rapid restore, and reuse of data while bridging the gap between on-premises and the cloud. Together, Pure Storage and Cohesity meet the needs of modern data protection with the best of backup and all-flash storage technology.
With advanced technology and all-flash, FlashBlade and modern backup from Cohesity can provide rapid restore at scale, defend all your backup data wherever it resides, and help you get the most value from your data. The integrated solution can deliver:
High Performance
Up to 3x faster backup and restore throughput than disk-based alternatives
Recovery of 1000s of virtual machines (VMs) a day
Up to one petabyte (1PB) a day to meet large disaster-recovery (DR) needs*
Simplified Management
Ease of management, auto-discovery, and configuration of FlashBlade
Non-disruptive upgrades
Native-cloud integration for flash-to-flash-to-cloud backup, recovery, and archive
Scalable and efficient data reuse
Scale-out Architecture
Disaggregated compute and storage for independent scaling of backup and recovery processes
Reuse of backup data on FlashBlade for modern apps
For more information on this integration, please contact the Pure Sales team.
*Hero numbers recovery still needs to be published.